CRYSTAL CLEAR
REALiS projectors from Canon Revolutionize Lectures in Higher Education
In a sense, high-definition televisions have spoiled us rotten.
Spend an hour watching cable on a new HDTV; the images are so clear, crisp and colorful that it feels like you're on the sidelines of that football game and in the kitchen with the nation's next great "Top Chef."
Nobody appreciates these images more than television's biggest fans: Americans under the age of 35. Naturally, then, students at higher education institutions across the country expect similarly clear, crisp and colorful images from the projectors that their educators use during lectures in the classroom.
However, not all projectors are equipped to deliver images of this quality. But the line of high-performance/high-resolution REALiS projectors from Canon (www.usa.canon.com/projectors) most certainly are. These projectors, most notably the new SX80 Mark II and WUX10 Mark II, offer affordable solutions for classroom environments, regardless of the subject matter at hand.
REALiS projectors are best known for delivering exceptional color and fine detail with high resolution and high brightness. They operate in rooms with just about any presentation set-up, regardless of the ambient lighting. REALiS projectors are also portable, affordable and designed to outlast even the least motivated fifth- and sixth-year seniors.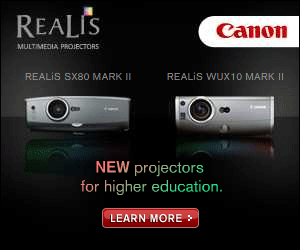 State-of-the-art LCOS (Liquid Crystal on Silicon) technology is at the heart of REALiS projectors. Generally speaking, this advanced technology has taken projectors to a whole new level. Specifically the technology delivers:
Seamless images with no flickering or "screen door" effect
Quick image response for better looking moving images
Smooth rendition of fine lines
Sharp display of small text (even at 7 point)
Crisp blacks
With REALiS projectors, Canon realizes the full potential of LCOS technology by combining it with a proprietary, third-generation AISYS Optical Engine—the vendor's patented light engine for achieving high brightness and high contrast. This engine ensures the right balance of contrast and brightness while maximizing the performance of LCOS panels, all in a compact body size.
The new REALiS SX80 Mark II and WUX10 Mark II deliver some of the highest clarity and brightness in the industry today. This incredible clarity is a byproduct of both projectors high resolution. The REALiS SX80 Mark II is native SXGA+ (1400 x 1050) resolution and the WUX10 Mark II is native WUXGA (1920 x 1200) resolution. Compared to conventional XGA (1024 x 768) resolution, these projectors offer a significantly larger display range capable of reproducing even the smallest details with razor-sharp precision.
In addition to high resolution, the high-contrast color reproduction on the SX80 Mark II and WUX10 Mark II creates images with crisp depth and dimension, ideally suited for conveying texture and materials. With these projectors, colors remain crisp and well-balanced—perfect for presentations that incorporate high-quality visuals.
Other features of these new REALiS projectors include:
1.5x powered zoom lens
HDMI terminal (version 1.3 deep color) for projection of high-quality digital images and 1080p video.
Built-in network connection for remote network operation.
Built-in USB port for seamless PC presentations and PictBridge camera compatibility (only on REALiS SX80 Mark II).
No matter how you look at it, the new Canon REALiS SX80 Mark II and WUX10 Mark II are the ideal projectors for the higher education environment because of their ability to replicate the kind of images young people are used to seeing on TV in their living rooms. The more familiar these images appear, the more likely students will pay attention. And of course the more they pay attention, the more they ultimately will learn.

Canon Realis
230 N. Milwaukee Ave.
Vernon Hills, IL 60061