SELF-SERVICE SHOPPERS
How can small schools keep up with the "big boys" when it comes to attracting students to their campuses?
A new report finds a self-service approach is the key.
In the "good old days"—you know, around the year 2000—the college and university application process was very much paper driven. Prospective students pored through catalogs and brochures to research schools, mailed in paper applications, and had their guidance counselors pass along hard-copy transcripts of the grades they earned in high school.
Today, however, everything is electronic. Students and parents go online to research schools, submit applications and request transcripts and records. A recent IntelliResponse report "Voice of the Student" found that students are "interacting with, evaluating and comparing schools often without setting foot on a campus or having a single human conversation." What's more, the report cited a growing preference among prospective students for finding their own answers to questions, using a self-service approach.
For small institutions—those with fewer than 6,000 students—this trend has brought with it a new set of challenges. These schools don't have as much money as the "big boys" in their markets so they struggle to satisfy student demands for new communication channels. It's a challenge for these institutions to find self-service applications that truly maximize efficiency and minimize overhead. The bottom line: Small institutions must embrace technology in order to level the playing field with large institutions in the race for the best and brightest students. And this race almost always begins online. The only way for small schools to successfully compete with large institutions is to beat the giants at their own service game.
Driving Change
By and large, most of this change has been driven by students themselves.
Today's web-savvy students are accustomed to getting the information they want when they want it—they don't want to wait for answers. These youngsters have a clear preference to find answers to their questions online; so much of their information about everything comes to them online that when they want information about schools they simply seek it out themselves.
Still, the information must be interactive. According to the report, just because institutions put information online doesn't mean students are going to find it.
Instead, the report contends that institutions must publish the information in places where students can access it—places that students visit regularly, including social networking sites such as Facebook, online forums, learning management portals like Blackboard, and even via their iPhones.
Another factor: The quality of the information itself.
"When a student goes to a school's website, it's the quality of the experience on that website, that determines the student's first impression of the school," says Mike Hennessey, who contributed the report. "A school website resolves their issue, answers their question and therefore satisfies their needs, or it does not, which, of course, means they leave the website frustrated and, in turn, frustrated with the school."
What Does it Mean?
With all of these changes in the way students research and apply for higher education, it behooves institutions to change the way they communicate with students in the first place.
In addition to embracing social networking sites, higher education institutions must develop service applications for mobile devices, since a greater number of teenagers and twenty-somethings access the Internet with these tools.
For large schools, this can be as simple as building or buying the necessary software applications and rolling them out. For small schools, it means leveraging robust, cost-effective tools and technology to provide the kind of customer service that students seek, at a price point they can afford
Another suggestion: Institutions must re-evaluate all aspects of their sites, learning management portals, social media channels and use of mobile devices since most students will abandon information searches if they cannot find answers quickly and easily.
Higher education institutions must also rethink the entire admissions equation in the wake of the self-service era. Instead of seeing the application process as a privilege for students, schools instead must equate prospective students to customers, and redouble efforts to serve these customers the way they wish to be served.
Especially for smaller institutions, this approach can go a long way to keeping prospective students interested and stretching dollars farther to create a greater Return on Investment (ROI).
The IntelliResponse Solution
To maximize customer service and minimize frustration, a growing number of higher education institutions are automating the customer experience and enhancing their ability to communicate with the 21st century student via web-based channels.
One method: IR Campus, a web self-service Answer Suite technology from IntelliResponse
This tool, which website administrators can upload to just about any website (mobile devices Facebook and Blackboard Learning Portal included), allows prospective students to go to an institution's online destination, key in a question and get one correct answer—not pages of search results through which they then must hunt.
The software is designed to let users ask questions in natural, conversational language, the same way they would ask them on the phone or in an email. In return, the technology provides users with one right answer.
The tool is designed to reach students the way they want to be reached. Remember: A potential customer is a terrible thing to waste.
IntelliResponse
425 Adelaide Street West, Suite 200
Toronto, ON, Canada M5V 3C1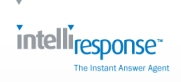 If you do not wish to receive future e-mails from the vendor featured in this message please click here